---
E N R I C H M E N T T O U R S
― RECENT ADVENTURES ―
THE GREAT DESERT TOTAL SOLAR ECLIPSE & NILE VOYAGE
Egypt
March 23 - April 6, 2006
MUSIC-SLIDE VIDEO

Give the video awhile to download fully before trying to play it; it's a large file and, even with a fast cable or DSL connection, it may require a few minutes to download. If you encounter any problems downloading and watching the video (often with QuickTime), please let me know.

LAND OF TIMELESS WONDER: EGYPT (5m09s)
Images by Dennis Mammana
Music by Gerald Markoe: "Sacred Ceremony" from his CD "Meditation Music of Ancient Egypt"
---
EGYPT 2006
On April 6, 2006 I returned from a total solar eclipse expedition to Salloum, Egypt. There I, along with 150 other eclipse chasers in my group, experienced and photographed this amazing celestial drama and the remarkable ancient land of Egypt.

This eclipse image required 36 hours to blend six separate exposures into one that shows the intricate coronal structure visible to the eye that day. Of course, no single exposure can hope to capture the full 10,000:1 brightness range between the corona and the sky. Two large prominences are visible at the one o'clock and two o'clock positions−each much larger than the Earth. Shot from Salloum, Egypt (Lat = 31d 35.126m N; Long = 25d 7.617m E)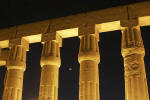 Two days after its co-starring role in the eclipse, the crescent moon shone at dusk over the spectacular Temple of Luxor, and a giant colossus of Rameses II.